Thank you ever so much for helping me during these stressful times to have my Last Will and Testament authorised at The Notary in less than 18 hours from start to finish.
The covid 19 lockdown has presented all of us with new challenges and worries that we didn't have a month ago and you alone Victoria came through in having my Will signed off in such a short length of time.
Victoria and I started exchanging emails regarding the details of my new Will at 7.00pm on Thursday April16th 2020 and continued until 11.30pm....and then Victoria sent me a follow up email at 6.30am the following morning!
Your professionalism and your expertise Victoria in these matters is unrivalled and together with your patience and your dedication you deserve all the praise that your many clients bestow upon you.
Finally, this morning at 12 noon on Friday April 17th I arrived home from the Notary with my new Will having been authorised and signed off by the Notary...from start to finish in 8 hours of daylight time...😃
In addition to the aforementioned I would like to say that I have known Victoria professionally for twelve years and she has been the lady to turn to in times of need.
Nothing is too much trouble for her and she has a team at her offices who also have that dedication to help people with their legal problems, thus reducing the stress in ones life....always a comfort in knowing they are there when I need them.
I wish you all at Victoria Villalba-asesores the success that you all deserve over many years of practice.
After that marathon last evening Victoria I am once again saying "thank you"...rest easy this evening please..
Barrie Wilson...Limaria 18/04/2020
I came to Victoria after recommendation in March 2017, having found I had been locked out of a house I jointly owned. I was extremely upset as did not then speak a word of Spanish. Victoria and Sharon and all the staff quickly were able to help and reassure me, and have been there for me every step of the way. There kindness, help, and understanding in my moments of panic has been infallible. I have since recommended Victoria to my friend, and bought a house in the village.
Angela Gurr
We have been helped and advised by Victoria for over 10 years. When we first came to Albox she was a beacon of light in the then murky and corrupt world of Spanish property development. She rescued us from dishonest builders and compliant legal advisors. Since the early days Victoria has developed a close relationship with us and helped us through the many bureaucratic mazes that an ex-pat is required to cross. Her brother, Jaime, has kept us on the right side of the fiscal and motoring authorities and together with her friendly, helpful and cheerful staff she has made our lives much less stressful
Lut
We are Keith and Jane Green. We have been using Villalba solicitors for the past 12 months; where they have dealt with the purchase of our dream holiday home. We gave them full power of attorney as we were stuck in the UK. Victoria, Sharron and Kimberley have shown us nothing but professionalism. They have not only dealt with the purchase of our house, they have opened bank accounts, set up direct debits for all household bills and helped set up a Spanish will us both of us. All that we have asked we have received a fast and professional reply; we will continue to use Victoria and her A1 team. They are also kind enough to hold a spare set of key for us so we will never got locked out.
Keith & Jane
We have been clients of Villalba Asesores since about 2007, we made contact with Victoria to assist in receiving back a deposit from a rogue glass installation supplier. She achieved an outcome and we got our deposit back. We continued to use victoria when we made our wills out and she and her colleagues have been more than helpful in helping in any problems that have arisen. We have our Spanish tax declaration submitted through her office.
They are still supporting us in many ways, even though we now reside in Galicia, to which we are very grateful for what they do.
Elsie & John Manning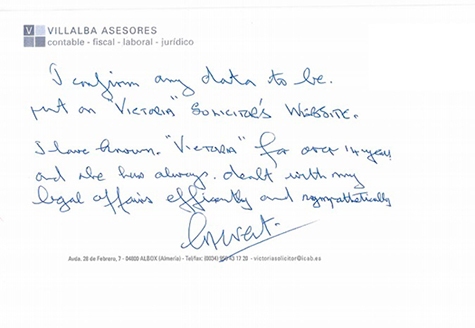 Gerald & Marcella West
Today I am living with quietness and peace. My life was not so, up until less than a year ago. Living in an abusive relationship with what I can't to realise was my partner had clinical psychosis. I continued to dive deeper into a very crazy and bad relationship that had my friends, family and community very worried for my safety. After a very difficult decision I approached Victoria with a first step to find out what my options where, being married in Spain but no knowledge of Spanish law in this matter. She was fantastic from the start, professional, knowledgable and sympathetic. She explained all of my options and was very patient. She was very firm regarding the legal sides of things and knew what was needed. I thought it was going to be a long stressful journey however, Victoria provided clarity and was always availiable at any time. Within 3 months, I was divorced and able to start to rebuild my life. Thank you Victoria for accomplishing the impossible
Hoy vivo en paz y tranquilidad. Mi vida no fue tan buena hasta hace menos de un año. Vivía en una relación abusiva con lo que me di cuenta que mi pareja tenía psicosis clínica. Continúe en una relación muy loca y mala que tenía mis amigos, familia y vecinos muy preocupados por mi seguridad. Después de una decisión difícil, acerque a victoria con un primer paso para ver cuáles eran mis opciones para divorciar en España. Aunque fue casada aquí, no entiendo la ley española referido a divorcios. Ella fue tan fantastic desde el principio, profesional, inteligente y tenia mucho simpatía. Ella me explicó todas mis opciones y fue muy paciente. Cuando había temas legales que no estaban bien, ella era muy dura en asegurarse que todo está bien. Pensé que iba a ser un camino largo de confusión y estrés pero victoria me trajo claridad y estaba disponible a todos momentos durante lo que para mi fue un momento muy difícil. En 3 meses estaba divorciada, solo y podía empezar a reconstruir mi vida. Gracias victoria, tu has podido lograr lo imposible.